What better way to start your week then with a giveaway?! I am so happy to have Erin & Shoshana here from goodbyebluemonday, for an interview and giveaway. Goodbyebluemonday is an Etsy shop specializing in adorable handmade cloth dolls and fun hand knit toys. If you haven't heard of their shop yet, then you're in for a real treat :) Just check out how sweet these ladies are and how AWESOME their dolls are....
So who are Erin & Shoshana? Tell us about the ladies behind these adorable dolls!
Shoshana is a librarian in Los Altos, Ca. who enjoys creating all kinds of cute and cuddly knitted goodies, her most popular being her cupcakes, bombs and extensive line of grenades. Shoshana loves vintage fashion and all things "booky".
Erin is a dollmaker, artist and mother of two. her hobbies include obsessively searching for and aquiring new music, and attempting to fix things that would generally require the knowlege and skill of a trained professional.
What inspired y'all to open a shop together and start selling dolls and knitted toys?
We have been friends since 2006, our husbands worked together and we were neighbors as well. We have a lot of common interests, the most pertinent being our love for making things. Whenever we hung out, we would always be working on something, so, we figured, why not see if other people might enjoy our items as much as we enjoyed making them. We chose ETSY because of the wonderful community it provides, and the freedom it allows us to make and sell whatever we want, whenever. We work

independently
from one another, but the differences in our work provides our customers with an interesting and well balanced dual perspective.
What is your creative process when it comes to designing then sewing your dolls?
Erin: The ispiration for my dolls come from a whole host of things, like, a much admired fabric print, art (I especially love children's book ilustrations), or even a current trend that has caught my eye.
Usually I'll start with drawing. I'll sketch a bunch until i come to something I really like, then I draw out a formal design. Once that's done, the rest of the process goes pretty quickly, because I can't wait to see what the end product will look like.
ok, i love your hand grenade knitted toys! Are they an original design? Is there a fun backstory to these pretties?
Shoshana: I was inspired by a favorite Threadless tshirt featuring happy- faced weapons in the design. Originally, I designed the grenade and bomb with that in mind, then decided that the grenades actually look better without the happy faces. i kind of like combining cute with edgy, and am often drawn to the juxtaposition between an actual grenade (cold, hard, violent) and the knit one (cute, soft, cuddly).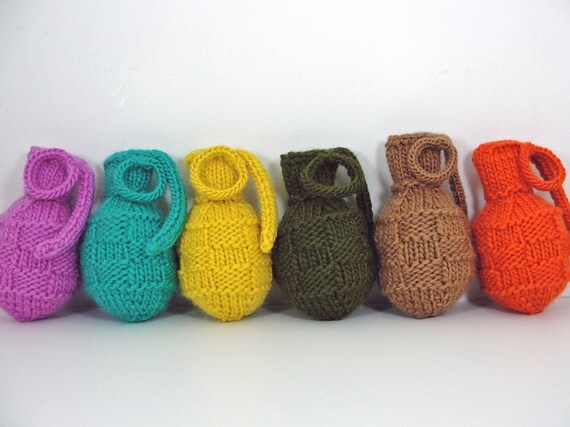 Your plush clouds are oh so dreamy- do you plan on extending that line or are they meant
to be
a minor role to your customizable dolls?
Yes, the clouds are ever evolving! Our most recent addition, Mr. Nimbus, has drawn quite a response, so we plan to further develop his persona. After all, he can't very well hang out in flip flops and cutoffs forever! he is a complex fellow,with a multi-faceted personality. I think, next, we might explore his more "dapper" side...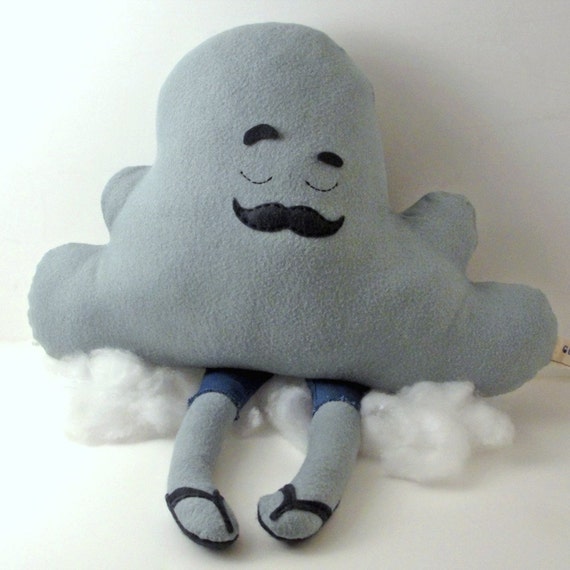 Mr. Nimbus
Can you give us a peek into your sewing/creating room? Perhaps at a current project as well
Erin: My studio is in my home. We live in the mountains of Santa Cruz, CA. Whenever I get bored or frustrated with work, I get to stare out my window at some Redwood trees. It's lovely.
The space is small, but quite orderly, mostly thanks to my amazing assistant Dru (who is also Shoshana's husband). There are many stacks of fabric and felt, children's drawings up all over the walls, and almost always some music playing.
As far as current projects go, we keep a special box for up and coming dolls. In it you will find random legs, half completed dresses and bodies, heads adorned with still pending hair designs... This box gives one the impression that some sort of doll massacre has occured; it's pretty grisly.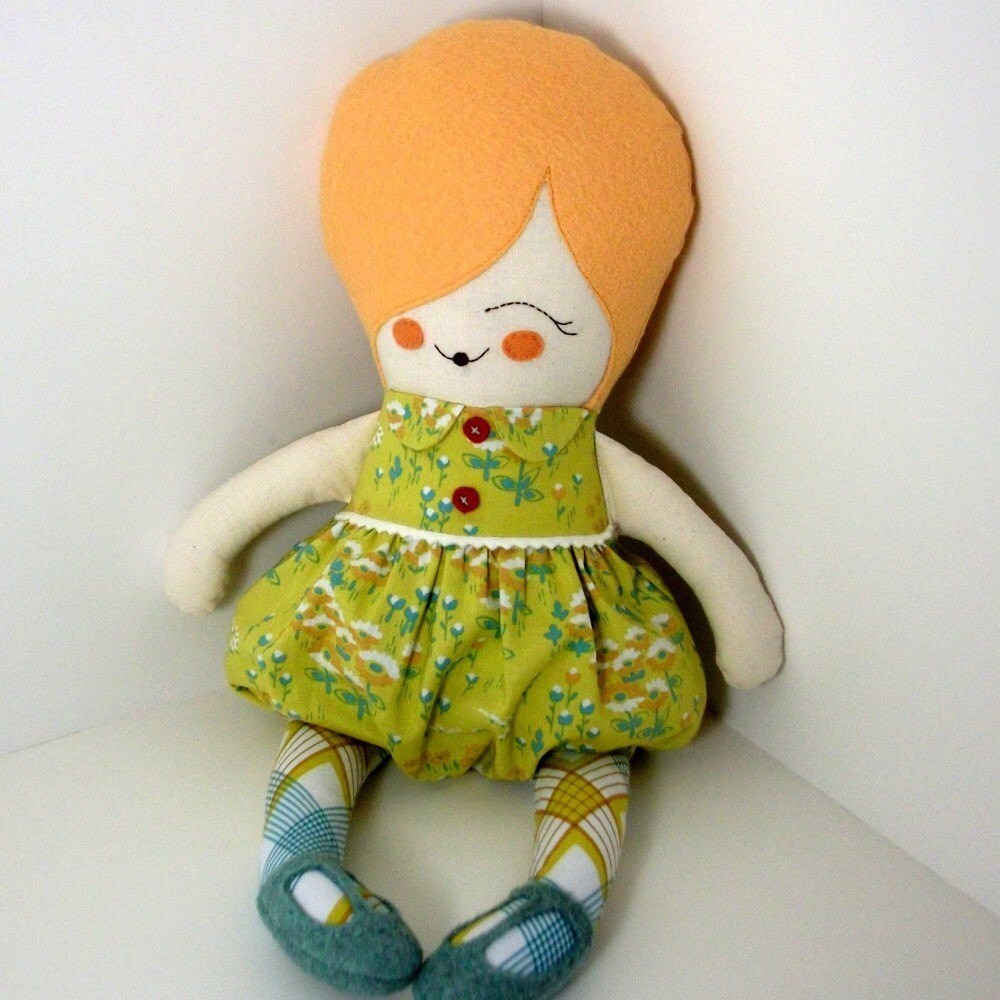 And one last question, how do you come up with the doll names? I think my daughters' names,
Evelyn & Flora would
make adorable doll names *hint hint* wouldn't you agree?
Erin: Yes, I would agree, in fact, we already have a Flora in the shop!
I really love names with a classic, or old fashioned feel to them. But it isn't really until I am setting up a new listing for the shop, that I make a decision on the name. I tend to just stare at a short-list of possible names, until one finally stands out as a winner,
or until I give up, and instead, go the "eeny meeny miny mo" route
.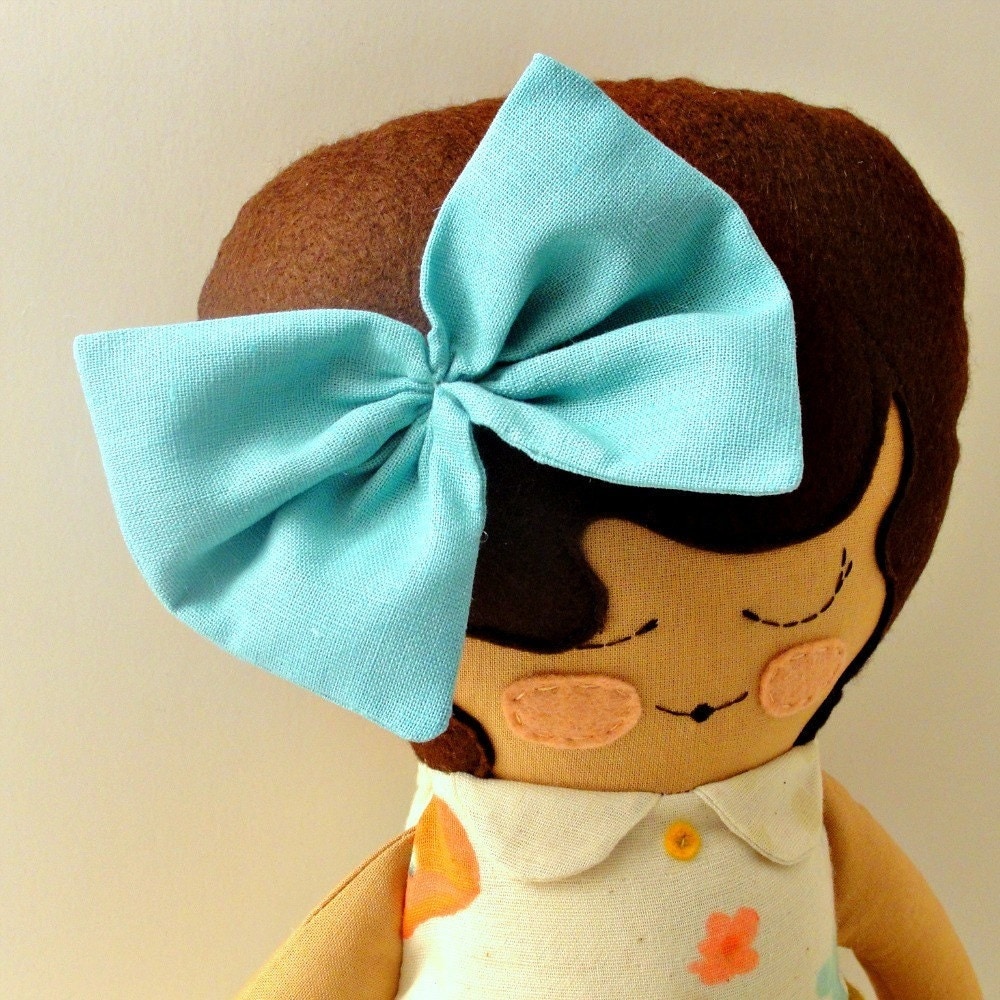 Flora
Thank you Erin and Shoshanna for answering all my questions :)
These ladies from goodbyebluemonday are generously giving away a Daisy doll to one lucky reader!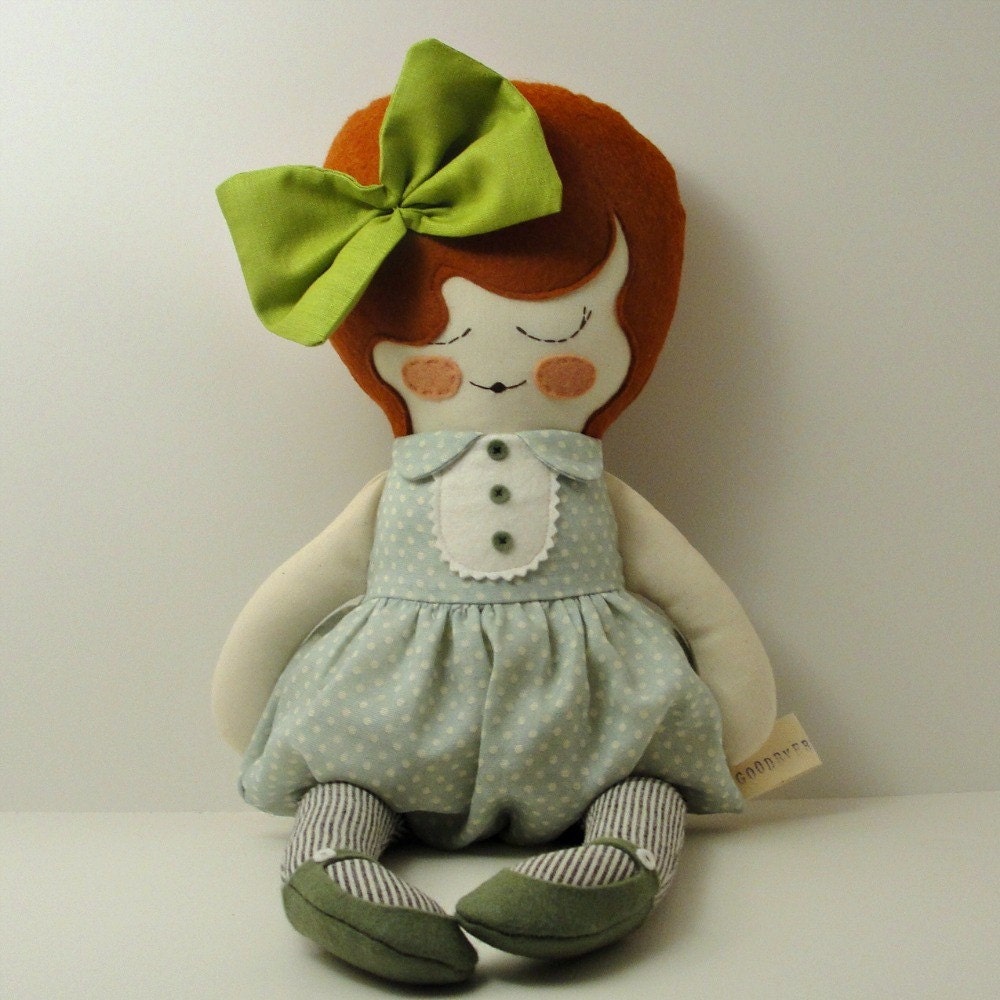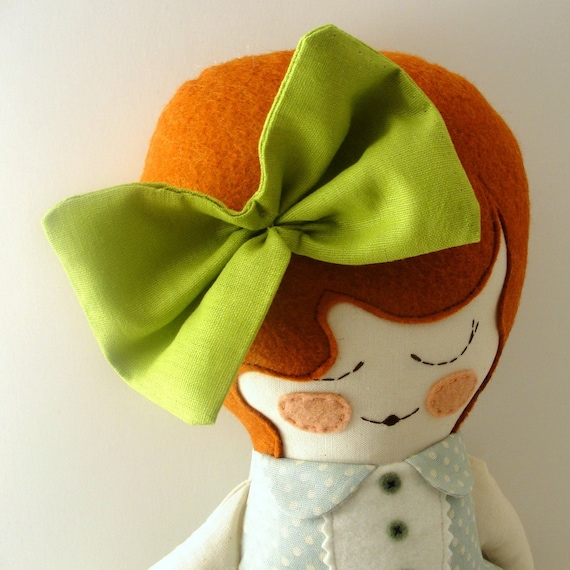 This sweet doll can be yours!
1. Become a public follower of the Urchin Knits blog via Google Friend Connect
2. visit goodbyebluemonday and add their shop to your favorites
3.Once you complete these two steps, leave one comment below telling me what your favorite
item from their shop is- leave your email address so I can contact you if you win!
For extra entries:
(Be sure to leave a comment for each extra entry in order for it to count! )
*The giveaway closes on Monday the 19th at 7am pacific time*
UPDATE: Please read the 'How to Enter' carefully! Only post ONE comment confirming you are a follower,that you favorited their shop, and what your favorite item is. DO NOT leave a separate comment for each. Only leave a separate comment for each extra entry. THANK YOU!
*all invalid comments (commenters who are not followers, or extra mandatory comments -3 comments when only one should have been left- will be deleted before the winner is chosen by Random.org*