For this week's feature and giveaway, I have Paula of
dents de loup
here at the Urchin Knits blog. Paula is an expert at minimalist knitting for the young children. All her toys have a unique sense of style that is all her own, yet hints at her French background- classic stripes and long, lean hand knit dolls. It has been such a fun time conversing with Paula as I got to flex my french skills, and keep google translate bookmarked ;) Here is the lovely Paula with some words on her brand...
How long have you been knitting, and how did you learn?

I learned to knit with my Grandmother when I was little. I must have been between 8 and 10 I think. I tried to make clothes for my doll.
And then I went back to knitting with my first pregnancy. Small clothes for my baby, then stuffed animals, little people ...

My friends and friends of my children loved my items. I opened the shop to be able to offer my creations to children who live farther away, or those I don't personally know.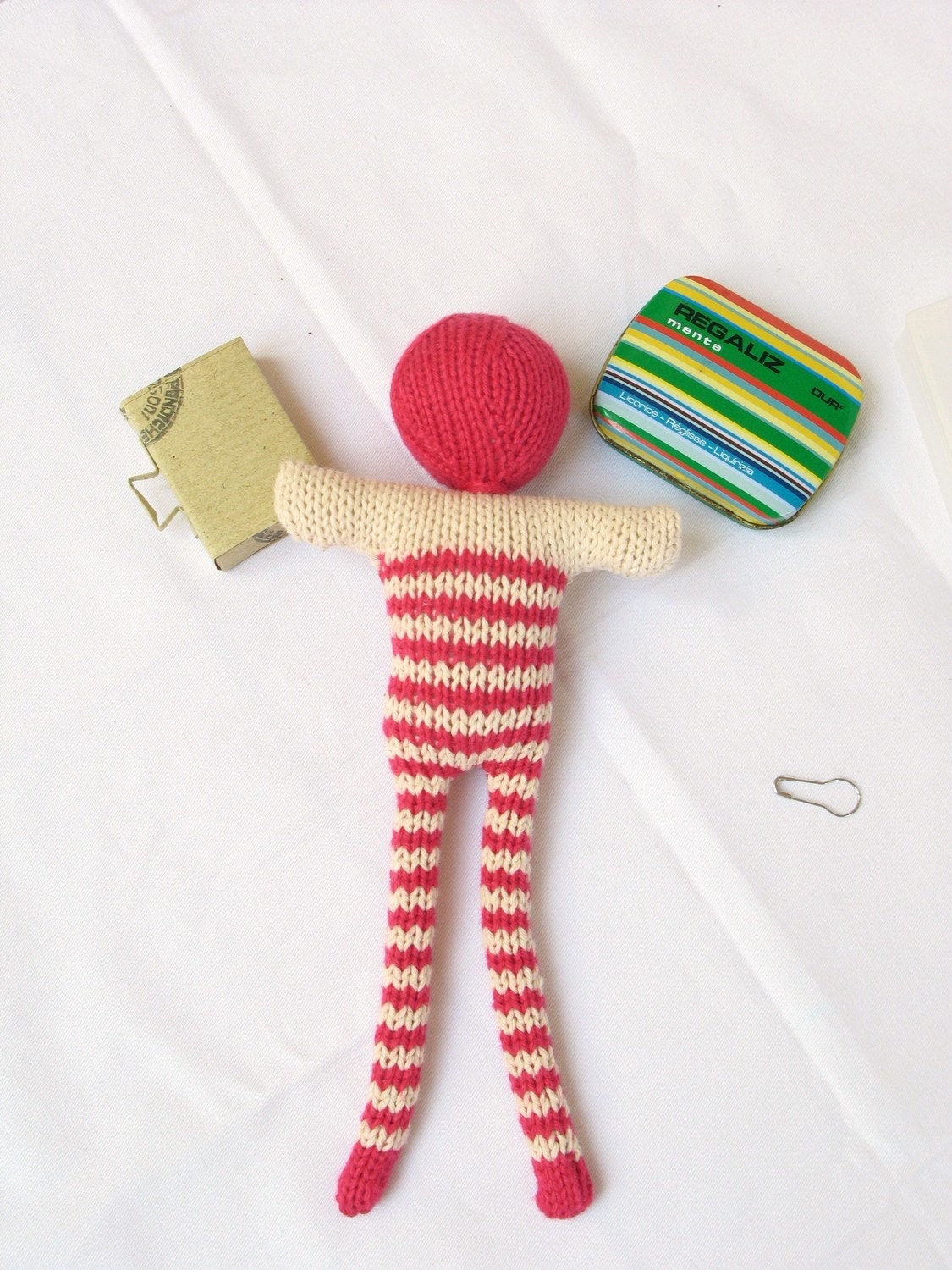 Can you explain your creative process

My "creative process" ... I find a lot of inspiring things on the internet. In magazines, toys, beautiful photos and beautiful illustrations. I observe and listen to my children playing, inventing stories. All of this gives me lots of ideas, objects, characters, colors and shapes ...
I make a first attempt, I correct, then show my children. And when I like what I make, I'll post pictures to show on my blog.
I love the minimalist approach you've taken with your striped doll, What process did you take to design these dolls?

To test the size, the thread appropriate, etc. I did some tests doll very simple. I wanted to work the "cotton twine", the thread of raw cotton, undyed. But we had to mix it with some color and I love stripes ...
Your superhero doll is both clever and sweet, perfect for a little boy! Do you have your own super-hero running around the house that inspired these creations?

That's exactly right! I have two boys who often play with a long cape. I thought a superhero their size, a hero who would be between 2 and 6 years old. With a little round belly, short legs that run very fast, the head of a "very sweet bandit" who is very strong and brave but who needs a big kiss from Mom when he hurts his knee
The dancer dolls and dancing bunnys are so whimsical and soft, I know that my daughters would love these! What kind of yarn do you use to create such a sweet doll with both structure and style

The dancers are more "sensitive" by the facial expression and the colors chosen. For all my dolls and characters I always use cotton.
Cotton thread in color and cotton twine that is more neutral, more basic.
Can you give us a peek into your knitting / creating room? Perhaps an ongoing project as well;)

Of course! I work in my home, with children playing around me. It is never stored and presented as in decorating magazines but I'll show you a little.
Thank you Paula!
dents de loup is offering a Dancer Doll to one lucky Urchin Knits readers!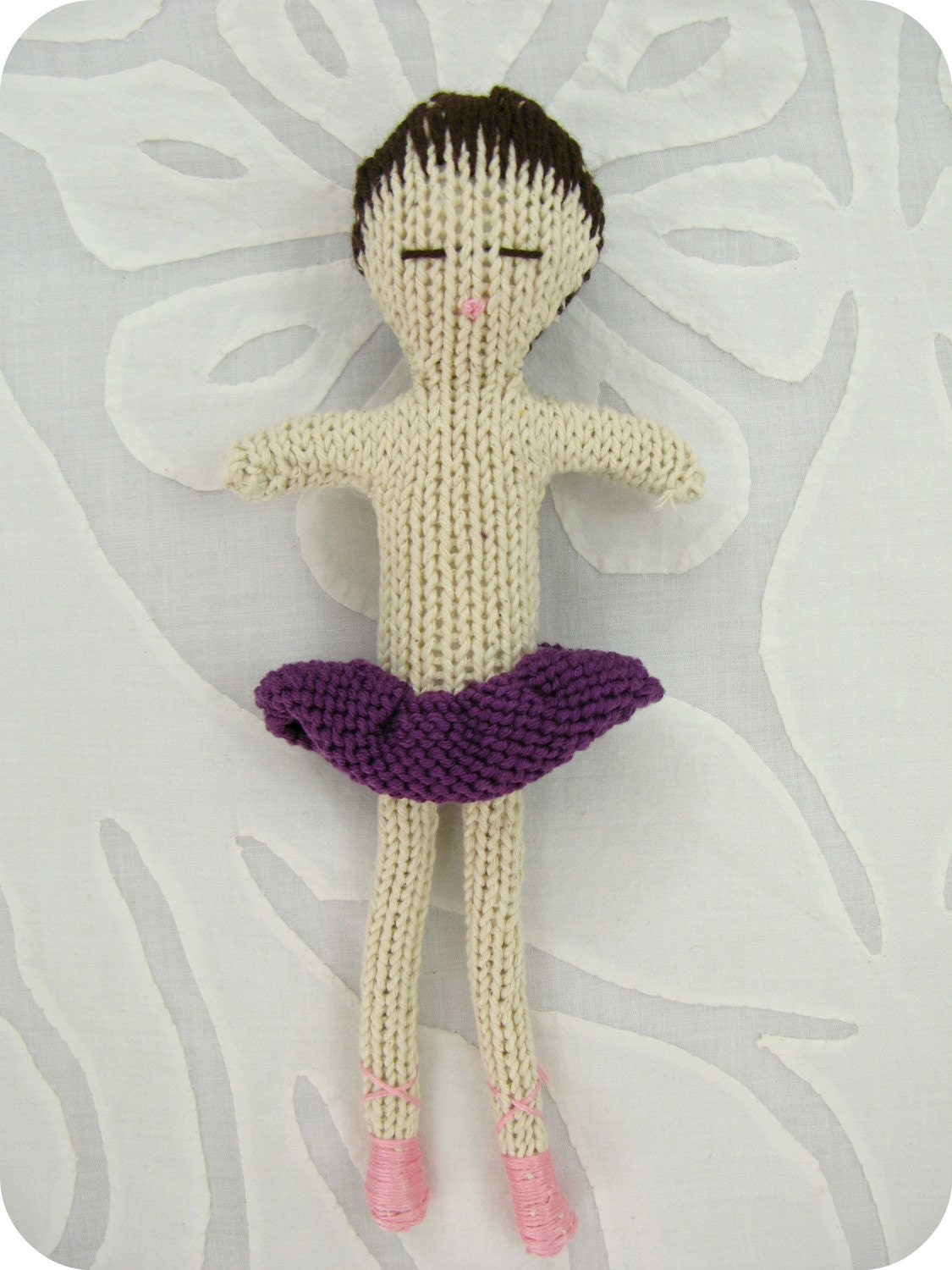 1. Become a public follower of the Urchin Knits blog via Google Friend Connect
2. Visit the dents de loup shop and add it to your Etsy favorites
3.Once you complete these two steps, leave one comment below telling me what your favorite
toy from the dents de loup shop is - leave your email address so I can contact you if you win!
For extra entries:
(Be sure to leave a comment for each extra entry in order for it to count! )
*The giveaway closes on Monday the 3rd at 7am pacific time*
UPDATE: Please read the 'How to Enter' carefully! Only post ONE comment confirming you are a follower,that you added the shop to your favorite, and what your favorite toy is. DO NOT leave a separate comment for each. Only leave a separate comment for each extra entry. ( So the max number of comments you can leave is 4) THANK YOU!
*all invalid comments (commenters who are not followers, or extra mandatory comments -3 comments when only one should have been left- will be deleted before the winner is chosen by Random.org*